11 Reasons Not to Try Indonesian Food ​
1. YOU'LL DROOL JUST THINKING ABOUT IT…​
Halal Restaurant in Singapore | Where should you go ​
Dinner in Singapore – Where should you go?​
We all love dining out. We all love to try out new foods, new places, gathering with friends and family and it would not be complete without a session of dining in a restaurant. Singapore is a very vibrant and busy city and there is everything for everyone. There are so many dining options in Singapore with so many varieties but one thing for sure is that there are always new places popping up in Singapore for you to try. What to expect when dining in Singapore at Indochili? Singapore is known for its fresh air, convenience and a very efficient city. Indochili restaurant has been carefully designed so that you can enjoy Singapore's fresh air and its convenient central location. When dining at Indochili you can expect to be able to enjoy authentic Indonesian food that is worth every bit of your penny. Indochili offers traditional Indonesian food that is suitable for everyone. Just like Singapore with its varieties, Indochili also offers a wide variety of dishes to cater everyone. Indochili proudly specialises in authentic traditional Indonesian cuisine. We want you to be able to experience the wonderful Indonesian cuisine just like its original taste if you were to dine in Indonesia. We want the world to be able to appreciate the true flavour of Indonesian food through our dishes. A good way to start is by discovering some of our most traditional dishes. In Indonesia, more often than not, we always have rice on our table. Most people are so accustomed to eating rice that they will feel that their meal isn't yet complete without a serve of rice on their plate. For true Indonesian style, try our rice dishes to see whether you are a true Indonesian at heart. Nasi Timbel – traditionally, nasi timbel is a "lunch-box" prepared for hard-working farmers by their loving wives. It's aromatic banana-leaf wrapped rice, combined with its tasty fried chicken, tofu, tempe, salted fish, and a bowl of sayur asem will surely make your day! Nasi Kampung – Literally, it means "village rice". It refers to the food that used to be eaten by peasants. However, it has developed into a delicacy that is loved by both wealthy and lowly. Our nasi kampung is served with omelette, urap, tempe balado, bakwan jagung, pickles and toasted coconut. Nasi Goreng Seafood – Voted as one of the best food in the world, this Indonesian street food is cherished by people from around the world. Our seafood fried rice is sauteed with prawns, squid, and topped with fried egg. Make sure you give these dishes a try for true Indonesian food experience. ​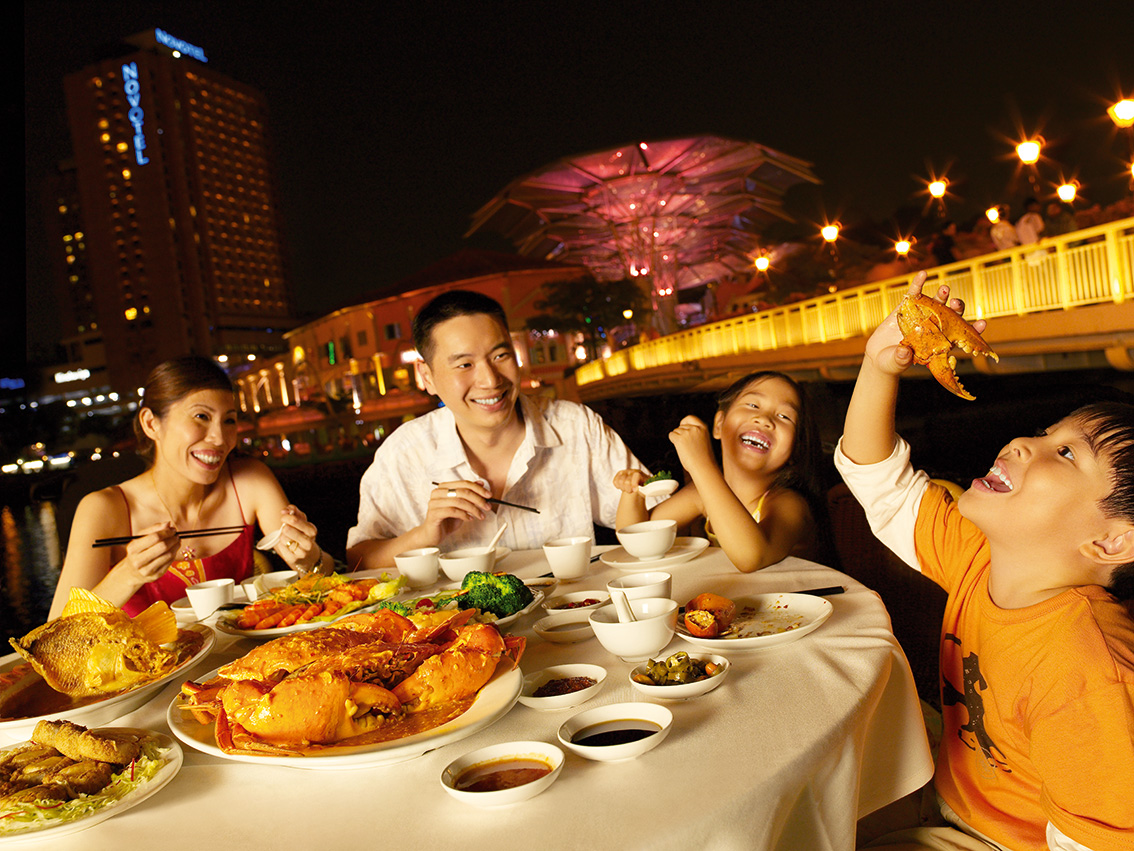 Singapore Restaurant – Best of The Best​
Singapore is well known for its top notch tourism industry. Named as one of the best holiday and travel destinations when it comes to convenience, vibrant night life, endless dining options and tourist attractions. It is quite mind boggling to be faced with so many choices when it comes to dining in Singapore. From authentic pocket friendly hawker foods to high end award winning restaurants, they are all here practically reachable everywhere. Singapore restaurant scene is always changing. There are always new places to try with your family and friends. As you know that with so many options out there, it is important to know the ones that are really live up to the hype. Here at Indochili restaurant, we strive to serve authentic Indonesian food as a way to appreciate the true Indonesian culture. The use of natural spices and herbs are incorporated in our dishes to make sure that they bring out the best flavour of our dishes. Everything is carefully prepared for your enjoyment to make sure that you get the complete dining experience. Not only that we are serious in the quality and taste of our food, we know the importance of ambience and providing the best service. Dining at Indochili Singapore restaurant will take you back to the modern Indonesia and leave you craving for more.
Indonesian Restaurant in Singapore – IndoChili​
What to expect from an Indonesian Restaurant like ours? When you visit an Indonesian Restaurant in Singapore, you can expect flavorful and healthier foods prepared with care from fresh ingredients. Indonesian food is as diverse as the culture it represents, but expect strong, bold flavors and a commitment to quality – one of the hallmarks of every Indonesian recipe.​
Top 10 Indonesian Food that you must try!​
I am pretty sure that you've heard of Indonesia or maybe some of you think that Bali is somewhere near Indonesia and thought that it is a country of its own. Maybe it was all because the diversity of Indonesian culture that made us (or some of us) think that way. There are so many ways to explore Indonesia and if you have little time to actually travel to the beautiful Indonesia, you can do it by tasting our FOOD! As you may know and realise, food speaks for itself. So here I am to present to you the top 10 (out of uncountable) Indonesian food that you definitely have to try. Of course, you have to visit the country after you try the food! In no particular order, I proudly present to you some of the best Indonesian dishes:
Dear food connoisseurs, we are happy to present you our Halal Food Blog – The premier resource for Halal food information in Singapore!​